Posts for tag: toothache
By Hyannis Dental Associates
December 30, 2018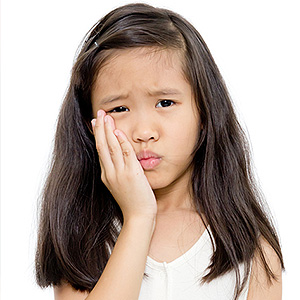 If your child begins complaining of tooth pain without an accompanying fever or facial swelling, it's likely not an emergency. Still, you should have us check it—and the sooner the better if the pain persists or keeps your child up at night. There are a number of possible causes, any of which if untreated could be detrimental to their dental health.
Before coming in, though, you can do a cursory check of your child's mouth to see if you notice any abnormalities. The most common cause for a toothache is tooth decay, which you might be able to see evidence of in the form of cavities or brown spots on the tooth's biting surfaces. If you notice swollen or reddened gums around a tooth, this could be a possible sign of a localized area of infection known as an abscess. You should also ask your child if they fell or were hit in the mouth and look for any signs of an injury.
If you don't see anything unusual, there may be another cause—stuck food like popcorn or candy lodged and exerting painful pressure on the gum tissue or tooth. You may be able to intervene in this case: gently floss around the affected tooth to try to dislodge any food particles. The pain may ease if you're able to remove any. Even so, if you see abnormalities in the mouth or the pain doesn't subside, you should definitely plan to come in for an examination.
In the meantime, you can help ease discomfort with a child-appropriate dose of ibuprofen or acetaminophen. An ice pack against the outside jaw may also help, but be careful not to apply ice directly to the skin. And under no circumstances rub aspirin or other painkiller directly on the gums—like ice, these products can burn the skin. If these efforts don't help you should try to see us the same day or first thing the next morning for advanced treatment.
The main thing is not to panic. Knowing what to look for and when to see us will help ensure your child's tooth pain will be cared for promptly.
If you would like more information on handling dental issues with your child, please contact us or schedule an appointment for a consultation. You can also learn more about this topic by reading the Dear Doctor magazine article "A Child's Toothache."
By Hyannis Dental Associates
October 04, 2013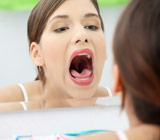 You have a toothache… or do you? That's not a facetious question — sometimes it's difficult to determine if it's your tooth that hurts, your gums or both. It's even difficult at times to pinpoint which tooth may be hurting.
This is because the pain can originate from a variety of causes. Determining the cause is the first step to not only alleviating the pain, but also treating the underlying condition. Those causes generally follow one of two paths: either the problem originates within a tooth and spreads to the gums and other tissue, or it begins with infected gum tissues and can spread to the teeth.
We refer to the first path as endodontic, meaning it originates from within a tooth. Most likely the tooth has decayed (also referred to as a cavity), which if untreated can progress, allowing bacteria to infect the tooth pulp (living tissue inside the tooth that contains nerve fibers). Pain results as the nerves become inflamed and sensitive, though often varying in quality (sharp or dull) or frequency (constant or intermittent); outside stimuli, like temperature or pressure, may also trigger pain.
Although likely originating with one tooth, it may be difficult to pinpoint which one is actually causing it; you might even feel pain in your sinus cavity radiating upward from the tooth. An untreated infection will continue to spread to surrounding soft tissue, or result in a painful abscess, an infected pocket of bacteria between the tooth and gums.
The other path is periodontal, meaning the infection originates in the gum tissues. A thin layer of dental plaque known as biofilm develops and sticks to teeth at the gum line, which can lead to infection of the gum tissue, which then becomes inflamed and painfully sensitive. The untreated infection can then progress along the tooth and invade the pulp through the accessory root canals.
Knowing the source of an ache will determine the best course of treatment, whether a root canal, root planing, or a combination of these or other procedures. It's also the best, most efficient way to relieve you of that unpleasant mouth pain.
If you would like more information on the various causes of tooth pain, please contact us or schedule an appointment for a consultation. You can also learn more about this topic by reading the Dear Doctor magazine article "Confusing Tooth Pain."
By Hyannis Dental Associates
August 21, 2013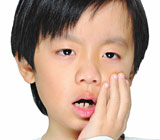 It's 3:00 PM, your child has just come back from the school playground — and she's complaining of a toothache that's making her miserable. She can't seem to say if there was a particular injury or a blow, but the more she talks about it, the worse it gets. You're the parent... what are you going to do now?
If you've ever been through this type of situation, you know that a calm demeanor and a little TLC can go a long way. But how do you know whether you're facing a dental emergency, or a routine booboo? Here are a few general rules that may help.
First, relax: Without a fever and facial swelling, a child's toothache isn't usually an emergency. But any tooth pain that keeps a child up at night or lasts into the next day should be evaluated by a dentist. Even if it's nothing but a small cavity (the most common cause of toothache) you don't want to let it go untreated. That could allow it to turn from a small discomfort into a major problem — like a painful abscess.
There are some things you can do at home to try and get a handle on what's causing the pain. Encourage the child to show you exactly where the pain is located, and to tell you when and how it started. Then, examine the area closely. Look for obvious brown spots, or even tiny cavities (holes) on biting surfaces or between teeth, which might indicate decay. Also check the gums surrounding the tooth, to see if there are sores or swelling.
You may find evidence of a traumatic injury, like a cut or bruise — or, if only swelling is apparent, it may mean an abscess has formed. If nothing looks amiss, try gently flossing on either side of the hurting tooth. This may dislodge a particle of food that's causing pain and pressure.
If the pain persists, you can try giving an appropriate dose of ibuprofen or acetaminophen, or applying an ice pack on the outside of the jaw — one minute on and one minute off. But even if you can make the immediate pain go away, don't neglect the situation that caused it. Unless you're absolutely sure you know why the toothache occurred, you should bring the child in for an examination. It will put your mind at rest — and maybe prevent a bigger problem down the road.
If you have questions about toothaches in children, please contact us or schedule an appointment for a consultation. You can learn more in the Dear Doctor magazine article "A Child's Toothache."