Posts for tag: dentures
By Hyannis Dental Associates
August 27, 2019
Generations have depended on dentures to effectively and affordably replace lost teeth. But they do have a major weakness: They contribute to jawbone loss that creates not only mouth and facial problems, but can also ruin a denture's fit.
Bone loss is a normal consequence of losing teeth. The biting forces normally generated when we chew stimulate new bone to replace older bone. When a tooth is missing, however, so is that chewing stimulation. This can slow bone replacement growth and gradually decrease the density and volume of affected bone.
While dentures can restore dental appearance and function, they can't restore this growth stimulation. What's worse, the pressure of the dentures against the gum-covered jaw ridge they rest upon may irritate the underlying bone and accelerate loss.
But there is a solution to the problem of denture-related bone loss: an implant-supported denture. Rather than obtaining its major support from the gum ridges, this new type of denture is secured by strategically-placed implants that connect with it.
Besides the enhanced support they can provide to a denture restoration, implants can also deter bone loss. This is because of the special affinity bone cells have with an implant's imbedded titanium post. The gradual growth of bone on and around the implant surface not only boosts the implant's strength and durability, it can also improve bone health.
There are two types of implant-supported dentures. One is a removable appliance that connects with implants installed in the jaw (three or more for the upper jaw or as few as two in the lower). It may also be possible to retrofit existing dentures to connect with implants.
The other type is a fixed appliance a dentist permanently installs by screwing it into anywhere from four and six implants. The fixed implant-supported denture is closer to the feel of real teeth (you'll brush and floss normally), but it's usually more costly than the removable implant-supported denture.
While more expensive than traditional ones, implant-supported dentures still cost less than other restorations like individual implant tooth replacements. They may also help deter bone loss, which may lead to a longer lasting fit with the dentures. Visit your dentist for an evaluation of your dental condition to see if you're a good candidate for this advanced form of dental restoration.
If you would like more information on implant-supported dentures, please contact us or schedule an appointment for a consultation. You can also learn more about this topic by reading the Dear Doctor magazine article "Overdentures & Fixed Dentures."
By Hyannis Dental Associates
December 06, 2015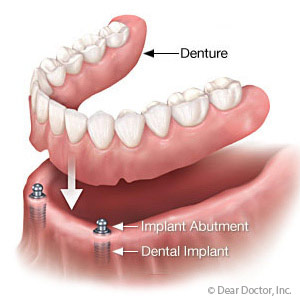 People who've lost all their teeth (a condition known as edentulism) face a decision on how to restore their lost function and appearance. And there are a number of options to consider.
A fixed bridge supported by dental implants, for example, is a good choice for patients who still have sufficient bone structure in their jaw. It's not a good choice, however, for those with the opposite situation — who've experienced significant bone loss which has also affected their facial structure. For them, there's a better alternative that also uses implants for support — the overdenture.
An overdenture is similar to a traditional denture, in that it's made of life-like crowns permanently set in denture plastic, and may either partially or fully cover the roof of the mouth. The main difference, though, is that unlike traditional dentures which rest for support on the gum ridges, an overdenture is supported by strategically placed implants that the denture fits over and connects to — hence the name "overdenture."
There are a number of advantages for an overdenture, especially for patients with bone loss. A removable, implant-supported denture can be designed to replace lost tissues that have altered facial appearance — to "fill in" the face and restore aesthetic harmony. Patients who've previously worn dentures will also often find their speech better improved than with fixed bridgework.
Because it's removable, an overdenture and the underlying gums are easier to clean, which helps inhibit disease and lessen further bone loss. It also allows you to properly care for the denture, which can extend its longevity and reduce future potential maintenance and replacement costs.
If you would like to consider removable overdentures as an option, you should begin first with a thorough oral exam that includes evaluating the status of your bone, jaw and facial structure. From there we can advise you if overdentures are the best choice for you.
If you would like more information on overdentures and other restoration options, please contact us or schedule an appointment for a consultation. You can also learn more about this topic by reading the Dear Doctor magazine article "Fixed vs. Removable."
By Hyannis Dental Associates
August 06, 2013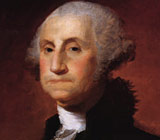 Everyone knows that George Washington wore false teeth. Quick, now, what were our first President's dentures made of?
Did you say wood? Along with the cherry tree, that's one of the most persistent myths about the father of our country. In fact, Washington had several sets of dentures — made of gold, hippopotamus tusk, and animal teeth, among other things — but none of them were made of wood.
Washington's dental troubles were well documented, and likely caused some discomfort through much of his life. He began losing teeth at the age of 22, and had only one natural tooth remaining when he took office. (He lost that one before finishing his first term.) Portraits painted several years apart show scars on his cheeks and a decreasing distance between his nose and chin, indicating persistent dental problems.
Dentistry has come a long way in the two-and-a-half centuries since Washington began losing his teeth. Yet edentulism — the complete loss of all permanent teeth — remains a major public health issue. Did you know that 26% of U.S. adults between 65 and 74 years of age have no natural teeth remaining?
Tooth loss leads to loss of the underlying bone in the jaw, making a person seem older and more severe-looking (just look at those later portraits of Washington). But the problems associated with lost teeth aren't limited to cosmetic flaws. Individuals lacking teeth sometimes have trouble getting adequate nutrition, and may be at increased risk for systemic health disorders.
Fortunately, modern dentistry offers a number of ways that the problem of tooth loss can be overcome. One of the most common is still — you guessed it — removable dentures. Prosthetic teeth that are well-designed and properly fitted offer an attractive and practical replacement when the natural teeth can't be saved. Working together with you, our office can provide a set of dentures that feel, fit, and function normally — and look great too.
There are also some state-of-the art methods that can make wearing dentures an even better experience. For example, to increase stability and comfort, the whole lower denture can be supported with just two dental implants placed in the lower jaw. This is referred to as an implant supported overdenture. This approach eliminates the need for dental adhesives, and many people find it boosts their confidence as well.
If you have questions about dentures, please contact us or schedule an appointment for a consultation. You can learn more in the Dear Doctor magazine articles "Removable Full Dentures" and "Implant Overdentures for the Lower Jaw."