Posts for: January, 2022
By Hyannis Dental Associates
January 13, 2022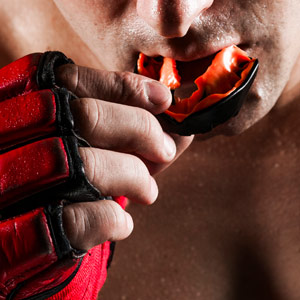 Mixed martial artists undoubtedly carry a greater risk for physical injury than the average person—just ask Devin Clark. The star fighter with the Ultimate Fighting Championship (UFC) has had his share of cuts and bruises over his successful career. His most recent bout was especially brutal—on his teeth.
During his September fight with Ion Cu?elaba in Las Vegas, "Brown Bear" (his nickname among fans) took a knee to the mouth. He went on to lose the fight—and nearly some teeth. Fortunately, an emergency dental visit saved the teeth displaced from their normal alignment.
You might not be an MMA fighter, but you're still at risk for dental trauma if you have an active lifestyle or play contact sports. Wearing a mouthguard will certainly lower your risk significantly. But what if the unthinkable still happens? An impact to the mouth could leave you with a chipped, cracked, loosened or even knocked out tooth.
If you or someone you know experiences dental trauma, here are 3 common sense tips to cope with the injury and minimize the damage.
See a dentist.  If you've seen pictures of Devin Clark's injury right after his September fight, you'd say it was a no-brainer he needed a dentist ASAP. Likewise, so should any injured person with obvious tooth or gum damage. But it's also a good idea to have a dentist check the teeth, gums and jaws within a day or two after any hard mouth contact for underlying damage.
Retrieve tooth fragments. The blunt force of a hard mouth impact can cause pieces of a tooth (or the whole tooth itself) to come loose. Before heading to the dentist, try to retrieve as many dental fragments as you can—they may be able to re-bond them to the tooth. Just be sure to clear the fragments of any debris and secure them in a container with milk or clean water.
Re-insert a knocked-out tooth. As mentioned earlier, a tooth could be knocked completely out of its socket during a hard impact. Even so, there's a good chance of saving it if you act quickly. First, retrieve the tooth and, holding it by the crown and not the root end, clear away dirt and debris with clean water. Then, press it firmly back into its socket. The person should then go immediately to a dentist or emergency room.
You're probably not at as much risk as an MMA fighter for dental trauma, but it can still happen. So, take precautions by wearing a mouthguard during high-risk activities. And should an injury occur, act promptly to protect yours or the other person's dental health.
If you would like more information about preventing and managing a mouth-related injury, please contact us or schedule a consultation. To learn more, read the Dear Doctor magazine article "Athletic Mouthguards."
By Hyannis Dental Associates
January 03, 2022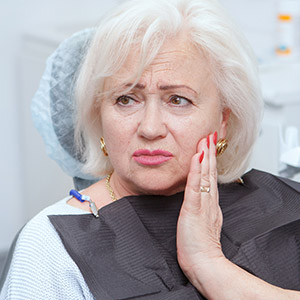 If you notice a loose tooth, don't wait! Call your dentist ASAP. That loose tooth may be in danger of being lost or damaged permanently—and you won't know if that's true without having the tooth examined.
To understand why, let's first consider how your teeth are normally held in place—and contrary to popular belief, it's not primarily through the bone. The actual mechanism is a form of gum tissue called the periodontal ligament attaching the tooth to the bone. This ligament secures teeth in place through tiny collagen fibers that attach to both the tooth and bone.
The periodontal ligament can effectively secure a tooth while still allowing for some movement. However, these ligaments can come under attack from periodontal (gum) disease, a bacterial infection primarily caused by dental plaque. Without aggressive treatment, the infection can destroy these tissues, causing them to eventually detach from the teeth.
This can result in loose teeth, which is, in fact, a late sign of advanced gum disease. As such, it's a definite alarm bell that you're in imminent danger of losing the teeth in question.
Treating a gum infection with accompanying loose teeth often has two components. First, we want to stop the infection and begin the healing process by removing any and all plaque and tartar (hardened plaque) on tooth surfaces. This includes deposits below the gum line or around the roots of the tooth, which may require surgery to access them.
Second, we want to help stabilize any loose teeth while we're treating the infection, which can take time.  We do this by using various methods from doing a bite adjustment of individual teeth tat are getting hit harder when you put your teeth together to splinting loose teeth to healthier neighboring teeth. We may also employ splinting when the tooth is loose for other reasons like trauma. This provides a loose tooth with needed stability while the gums and bone continue to heal and reattach.
Securing a loose tooth and treating the underlying cause isn't something you should put off. The sooner we address it, the more likely you won't lose your tooth.
If you would like more information on permanent teeth that become loose, please contact us or schedule an appointment for a consultation. You can also learn more about this topic by reading the Dear Doctor magazine article "When Permanent Teeth Become Loose."