Posts for: March, 2014
By Hyannis Dental Associates
March 25, 2014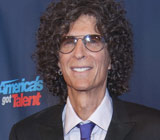 Is there anything that radio and TV personality (and self-proclaimed "King of All Media") Howard Stern doesn't want to talk about in public? Maybe not — but it took a caller's on-air question to get the infamous shock jock to open up about his own dental work.
When he was directly asked if his teeth were capped, Stern said no. "I redid 'em [some time] ago… I had bonding and um… veneers… over my real teeth. But I don't get that 'Hollywood white' though," he said, before adding his uncensored opinion on the subject of proper tooth shades.
As we're sure Stern would be the first to point out, everyone has a right to their own opinion. But we're pleased that Howard brought up an important point about veneers: They are custom-made in a whole range of different shades, from a more 'natural' tooth color to a brilliant white shine. Which one you select depends on what look is right for you — and that's your choice.
In case you aren't familiar with veneers, they are fingernail-thin coverings made of porcelain, which are bonded onto the surfaces of the teeth. This enables them to hide a number of defects — like chips, discoloration, and even small irregularities in spacing. They can also be used to lengthen teeth that seem out of proportion to the gums, lips or other facial features.
Veneers are among the cosmetic dental treatments most favored by Hollywood stars… as well as regular folks who want a dramatic improvement in their smile. Unlike crowns (caps), which generally require extensive reshaping of the tooth, standard veneers require the removal of just fractions of a millimeter of tooth surface. That makes them a minimally invasive method of smile enhancement that can make a big difference in your appearance. In fact, veneers are often a major part of a complete "smile makeover."
Dental veneers are custom made in a laboratory from a mold of your teeth. They are designed to fit your teeth perfectly — and to be just the shade you want. When you come in for a consultation, we will discuss what you like and don't like about your smile, and how we might improve it. Will you opt to get the brilliant "red-carpet" smile you always wished for… or go for a subtle, more natural tooth color? Only you can decide.
Howard Stern's veneers may be the most restrained thing about him… but we're just glad that veneers helped him get the kind of smile he wanted. You can, too. If you would like more information on dental veneers, please contact us or schedule an appointment for a consultation. You can learn more about this topic in the Dear Doctor magazine articles "Porcelain Veneers" and "Porcelain Crowns & Veneers."
By Hyannis Dental Associates
March 10, 2014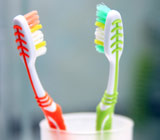 Your toothbrush serves the invaluable purpose of minimizing bacterial buildup (plaque) that can irritate gums and lead to periodontal disease, infection of the bone and tissues supporting your teeth. Brushing also helps dislodge food particles that certain oral bacteria would otherwise feed on, producing acids in the process that can eat through protective tooth enamel and the vulnerable dentin below. Given its importance to your oral health, you can maximize your toothbrush's effectiveness by using and storing it properly, and replacing it (or the brush head if you have a powered model) regularly.
Using and Storing Your Brush
All that's needed to dislodge plaque from oral surfaces is a relaxed grip and a gentle jiggling motion. Too much pressure can wear away tooth enamel, cause gum tissue to recede, and shorten the life of your brush head.
When you're done using your brush:
Thoroughly rinse it to remove any remaining tooth paste, food particles, etc.
If you're super-vigilant, you also can disinfect your brush by soaking it in mouthwash, brush-sanitizing rinse, or a half water/half hydrogen peroxide solution, or dipping it in boiling water for 5 to 10 seconds.
Air dry in an upright position and do not routinely cover your toothbrush or store it in a closed container. A dark, moist environment is more conducive to the growth of microorganisms.
Replacing and Recycling Your Toothbrush
Even with the best of care, toothbrush bristles become frayed and worn and their cleaning effectiveness diminishes after 3 or 4 months, according to the American Dental Association, though it could be sooner depending on factors unique to each patient. Besides checking the bristles regularly, a good way of keeping track is to write the date you start using your toothbrush in permanent pen on a big-enough spot on the handle (or doing it on masking tape applied to the base of a power brush).
Once your brush has passed its useful life for oral hygiene, you can still get plenty of mileage out of it. You'll find plenty of ideas on the internet for cleaning grout between tiles and grime-filled spots around taps and toilet lid hinges; removing mud from boot treads; scrubbing off corrosion from around car battery terminals and more!
If you would like more information about oral hygiene, please contact us or schedule an appointment for a consultation. You can also learn more about this topic by reading the Dear Doctor magazine articles "Toothbrush Lifespan" and "Manual vs Powered Toothbrushes."