Posts for: April, 2013
By Hyannis Dental Associates
April 20, 2013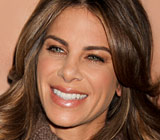 Jillian Michaels, personal trainer and star of television's The Biggest Loser isn't afraid of a tough situation — like a heart-pumping exercise routine that mixes kickboxing with a general cardio workout. But inside, she told an interviewer from Dear Doctor magazine, she's really a softie, with "a drive to be one of the good guys." In her hit TV shows, she tries to help overweight people get back to a healthy body mass. And in doing so, she comes face-to-face with the difficult issue of sleep apnea.
"When I encounter sleep apnea it is obviously weight related. It's incredibly common and affects millions of people," she says. Would it surprise you to know that it's a problem dentists encounter as well?
Sleep apnea is a type of sleep-related breathing disorder (SRBD) that's associated with being overweight, among other things. Chronic loud snoring is one symptom of this condition. A person with sleep apnea may wake 50 or more times per hour and have no memory of it. These awakenings last just long enough to allow an individual to breathe — but don't allow a deep and restful sleep. They may also lead to other serious problems, and even complications such as brain damage from lack of oxygen.
What's the dental connection? Sleep apnea can sometimes be effectively treated with an oral appliance that's available here at the dental office. The appliance, worn at night, repositions the jaw to reduce the possibility of the tongue obstructing the throat and closing the airway. If you are suffering from sleep apnea, an oral appliance may be recommended — it's a conservative treatment that's backed by substantial scientific evidence.
As Michaels says, "I tell people that [sleep apnea] is not a life sentence... It will get better with hard work and a clean diet." So listen to the trainer! If you would like more information about sleep-related breathing disorders, please contact us for a consultation. You can learn more in the Dear Doctor magazine article "Sleep Disorders and Dentistry."
By Hyannis Dental Associates
April 04, 2013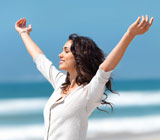 Have you been avoiding seeing a dentist because you are afraid that the visit might be unpleasant or painful? Are you unhappy with the appearance of your teeth and the health of your mouth, even envious of others who are able to visit their dentist without hesitation?
If you've answered yes to these questions, you are not alone. Many people experience some anxiety about visiting their dentist. Some fears are based on past negative experiences, indirectly influenced by family members or friends, or even by images seen in the movies. Regardless of the origin of your fear, we will work with you to turn negative perceptions or experiences into positive ones. The most important thing to remember is that allowing dental problems to remain untreated can have bad consequences, including toothache, infection, poor appearance and even general health complications.
We will listen to you and even encourage you to express your feelings. Tell us the details of your fear and anxiety. You won't be judged but, instead, we want to understand exactly what troubles you, so that together we help you overcome what is preventing you from getting the care you want and need.
You will be in control at all times and we will never rush you. First we'll spend the time necessary to get you comfortable, before we even do any dentistry. After all, attempting to rush through a procedure may only incite more anxiety, and that is the last thing we want to do! We want you to leave our office with the feeling that you can more comfortably see us again building on your last positive experience.
If you would like to talk to us about what's bothering you and begin working together towards a solution, please call us today to schedule a consultation. To learn more about how patients and dentists can work together to eradicate dental fear, read the Dear Doctor magazine article "Overcoming Dental Fear & Anxiety."