Posts for: September, 2012
By Hyannis Dental Associates
September 27, 2012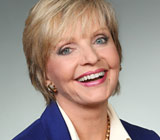 Florence Henderson has inspired generations of people through her portrayal of America's most beloved TV mother, Carol Brady, on one of the longest running situational comedies, The Brady Brunch. Today Florence is still a role model but for a much different audience: senior citizens.
Henderson created the FloH Club as an organization to assist senior citizens with understanding and embracing technology, as she described in an interview with Dear Doctor magazine. "I was inspired to create the FloH Club because of my own fear of technology and because I didn't want to keep asking my children for help," she said.
And while Henderson was blessed with naturally straight teeth and has had no cosmetic work done, she is not opposed to it. "I wouldn't care how old I was, if I had misaligned teeth or felt I needed cosmetic dentistry I would certainly do it!"
One teeth-straightening option many adults consider is clear orthodontic aligners. They are an excellent way for self-conscious adults to align their teeth without feeling that they will appear as an awkward "brace-faced" youth — a look that is commonplace for the teenage years.
But what are clear aligners? They are an alternative system to traditional braces that use a sequence of individual, custom-fitted trays that are clear and removable to gradually straighten teeth. They are usually recommended for correcting mild to moderate spacing problems or crowding of the teeth, and for cases in which there are no major issues with your bite (i.e., your back teeth fit together properly and biting forces are distributed evenly on all of your teeth).
To learn more about this method of aligning teeth, you can continue reading the Dear Doctor magazine article "Clear Orthodontic Aligners." Or you can contact us today to schedule an appointment so that we can conduct a thorough examination and discuss what treatment options will be best for you. And to read the entire interview with Florence Henderson, please see the Dear Doctor article "Florence Henderson."
By Hyannis Dental Associates
September 10, 2012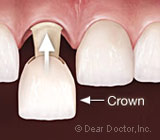 Creating a dental crown that looks good and wears well is not an easy achievement. It is the result of good communication you, the patient, have with us, your dental professionals, and that we have with the dental lab that manufactures the crown. In addition, it reflects the quality of work done by us and by the lab technician.
What is a dental crown?
A crown is a dental restoration that surrounds the remains of a damaged tooth or is attached to a dental implant so that it resembles a natural tooth as it extends above the gum line. The choice of materials and appearance of the crown depend upon many factors. One is the location of the crown. If it is in the back part of your jaw, strength and wear will be a major factor. If it is in the front, a life-like appearance will be important.
What goes into making a good-looking and functional crown?
Options for crown materials include porcelain, gold, porcelain fused to metal (called PFM) and some newer materials such as "pressed-ceramic" restorations and computer-milled-ceramics.
You as the patient can have a say in choosing the crown's color and appearance. Before it is cemented into its final position, make sure you are happy with the feel and appearance of your new crown.
Gold is often chosen for crowns on back teeth because of its superior wear qualities. Gold crowns have been known to last more than 50 years. They also cause minimal wear to the teeth that they touch on the opposing jaw.
Crowns made of porcelain (a glass-like substance fired in an oven at a high temperature) look good but may be too brittle to stand the wear and forces given to back teeth. Like glass, they can fracture under pressure. But because of their lifelike appearance they make a good choice for visible front teeth.
PFM (porcelain-fused-to-metal crowns) are a good combination of the best of gold and porcelain, but they sometimes lose the stains applied to make them look natural, and occasionally they fracture away from the metal.
A provisional crown can help you make sure you are getting a crown with the qualities you want. With the provisional crown all the details are worked out ahead of time, and you get a chance to try them out to make sure the crown looks good and that you can eat and talk normally. After you give your approval on the provisional crown, the final crown will be made to match it, in longer-lasting and better quality components.
Contact us today to schedule an appointment to discuss your questions about crowns and other dental restorations. You can also learn more by reading the Dear Doctor magazine article "Gold or Porcelain Crowns."